Precision Target Airgun shooting
There are a number of manufacturers of target air guns with some quite daunting looking prices, but good quality secondhand target air rifles and pistols can be obtained for £100 to £200. The following are only a few of what can be found on the market.
Target air rifles
The Feinwerkbau - FWB 700ALU series was introduced in early 2003 and represented the state of the art in precision 10 metre target 4.5 mm (.177 inch) air rifle shooting. It is an air gun which is charged from a compressed air source, such as a diver's air bottle. The cylinder under the barrel is charged to 200 bar (about 3000 psi) and can power the gun for about 180 shots before refilling. Having the gun operated by compressed air means that it is less tiring for the user over the usual 60 shot course of fire. The Rifles have a large range of adjustments available to fit the gun to the user.(Feinwerkbau translates from the German as: "Fine work company")
FWB 700ALU - £2150.
Hammerli AR20 - £595
Walther LG400 - only £3040
Target air pistols
The first photo is of a Feinwerkbau model 40 compressed air 4.5mm air pistol showing one of the often quite gaudy colour schemes that are in the current fashion for the target sports. The red tube under the barrel is the compressed air cylinder and this can be easily unscrewed for recharging from (normally) a diver's air bottle. Fitted into the end of the tube is a pressure gauge to show the contents. Under the air cylinder are the balance weights, which can be moved to suit the shooter's preferences. These guns are highly adjustable to suit individual requirements and they do not come cheap.
Feinwerkbau 40 - £1450 plus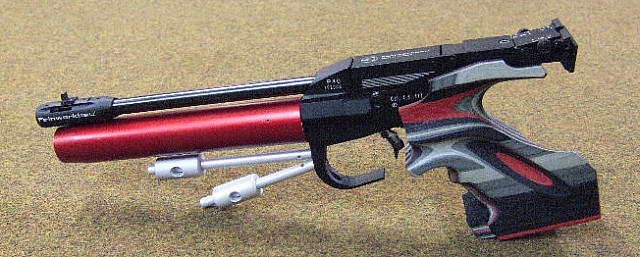 The Walther LP 300, runs on compressed air, similar to the FWB above. From £1013 new
Steyr LP50 - a five shot pistol with a small magazine. From £1355
This is an older model of Feinwerkbau, the Model 2, which is operated from CO2 gas. Still a competitive target gun today and the best you could buy in the 1980's - secondhand £100 plus
For your amusement:
Feinwerkbau made this Model 2 with a bendy barrel and were surprised to find that it was just as accurate as one with a straight barrel
Quite a well know picture - and yes, JB is holding a Walther LP53 air pistol.