Muzzle Loading - Black Powder Photographs
The following photos represent some of the history of the club, click one to open it up. More will be added as they become available and If anyone has any pictures that could loaned for copying, please let Bill Phelps know by emailing from the contact page. All photos will be scanned and returned to the owner.
2013 BP section award winners
Ernie Bryer - Muzzle loading rifle
Peter Groves - Under lever rifle
Rob Haines - Black Powder pistol
The October 2013 shoot winner - Peter Groves using a .45 calibre Muzzle loading rifle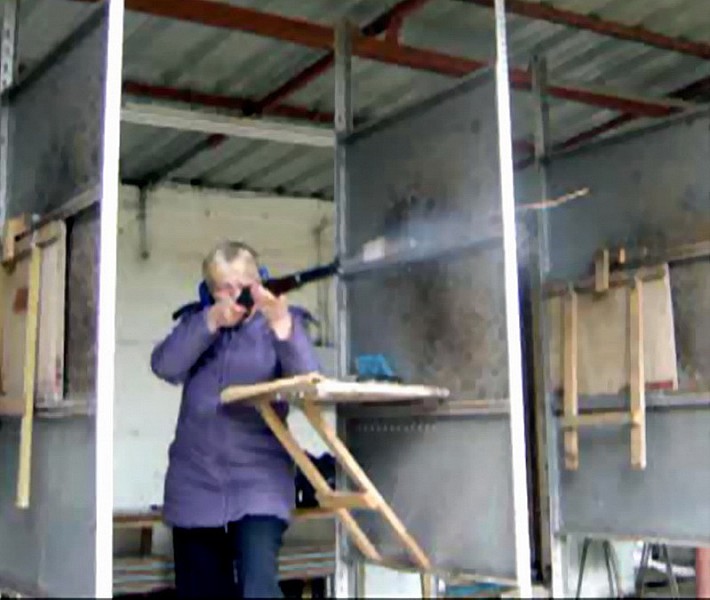 Two pictures from Colin Blower showing Rose shooting a .44 carbine and a BP pistol. Interesting pictures although a touch blurry due to them being captured rom a Video camera mounted remotely in front of the Shooter.
Photographs taken 5th February 2011 on the 25m range at the club showing a full squad of shooters, using various pistols, rifles and carbines.
Two different types of Black Powder Pistol

One of our club members with his muzzle loading rifle

Pouring a measure of Powder.
This can be done using plastic tubes with a previously measured amount or as on the right with a copper flask using your thumb and forefinger to control the amount

These photos show the use of a Black Powder revolver. A powder flask was used to put a measured charge into each of the revolvers six cylinders prior to the ball, wad and cap being added.



Ball and patch loading a rifle - a smaller hammer could be used to start the patched ball in the barrel prior to ramming it home.
The last thing to do with any percussion firing Black Powder firearm is to cap the nipple.
Some shooters use horn powder flasks such as these
Different types of targets used in Black Powder shooting
The 18th Century Kentucky Rifle - and it's parts
Using a .22 sporting Rifle on the 50m range